Did you know that men, women and children are being bought and sold…right in front of us? We're talking about human trafficking, the equivalent of modern-day slavery. Across the globe, these victims of modern-day slavery are being forced to live under oppression in the underground sex industry and labor market, and it is happening in the towns and cities where we live – it is happening where we minister.
"Speak up for those who cannot speak for themselves. Protect the rights of all who are helpless. Speak for them and be a righteous judge. Protect the rights of the poor and needy." Proverbs 31:8-9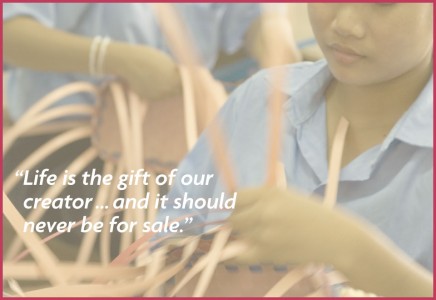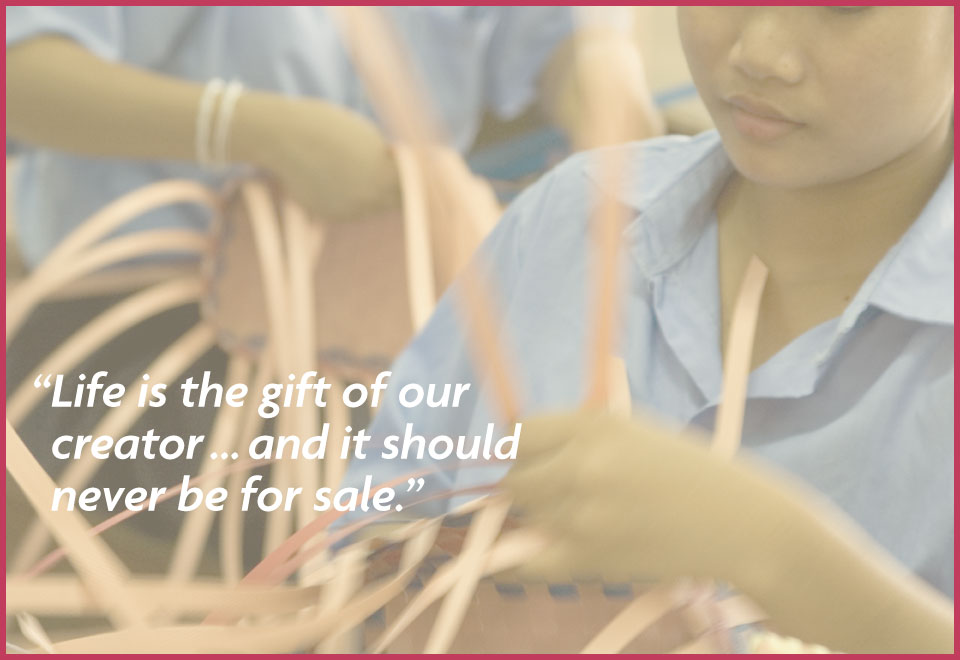 VJN lifts up prevention work as the key way Vineyard churches can fight modern-day slavery.
Consider your church's domestic and international missions partnerships and integrate anti-trafficking education and awareness for teams.
Evaluate your church's existing ministries with fresh eyes to see how they might already be fighting trafficking. See below for the VJN resource on how to integrate your church's existing ministries to prevent human trafficking.
Host a film night to raise awareness and start the conversation.
Reach out and connect with leaders of existing anti-trafficking ministries and organizations headed up by Vineyard leaders throughout the country. For example, check out Trade Justice Mission, the human trafficking ministry at Anaheim Vineyard,

"Love Justice" School

at Boise Vineyard,

BRVHeart

Task Force at Blue Route Vineyard, A 2nd Cup Coffee Shop at Houston Vineyard, and Unseen(UK).
Freeing Slaves Resources
Report a Tip 1-888-3737-888 
or Text "HELP" or "INFO" to BeFree (233733).
If you believe you are a victim of human trafficking or may have information about a potential trafficking situation, call 1-888-3737-888 or Text "HELP"to 233733.
Hotline Call Specialists are available 24 hours a day, 7 days a week, 365 days a year to take reports from anywhere in the country related to potential trafficking victims, suspicious behaviors, and/or locations where trafficking is suspected to occur.
All reports are confidential. Interpreters are available.
If you or someone you know is in immediate danger, please call 911.
Submit a Tip Online
To submit a tip online, please go to the NHTRC Report a Tip Page.
For immediate assistance or to speak directly with an NHTRC Call Specialist, please contact the 24-hour hotline: 1-888-3737-888.
iPhone/Android App Sweat & Toil: Child Labor, Forced Labor, and Human Trafficking Around the World is a comprehensive resource developed by ILAB documenting child labor and forced labor worldwide. This app fits  three reports the size of a phone book in the palm of your hand. Five things you can do with this app are:
Check countries' efforts to eliminate child labor
Find child labor data;
Browse goods produced with child labor or forced labor;
Review laws and ratifications; and
See what governments can to do end child labor.
Using this app can be a starting point to empower yourself with knowledge about child labor or forced labor around the world. Anyone with an interest in these issues – governments, businesses, academics, civil society, consumers – can use it as a source of information to begin asking questions, taking action, and demanding change.
The Freedom Collaborative– The best way your church can begin to fight modern-day slavery is by first seeing who is already doing work in your area. Use the Freedom Collaborative database of organizations for find local agencies working to address exploitation, human trafficking and slavery in the U.S., and around the globe.
Online Safety
You can prevent child trafficking by promoting online safety with your kids. NetSmartz Workshop is an interactive, educational program of the National Center for Missing & Exploited Children® (NCMEC) that provides age-appropriate resources to help teach children how to be safer on- and offline. The program is designed for children ages 5-17, parents and guardians, educators, and law enforcement. With resources such as videos, games, activity cards, and presentations, NetSmartz entertains while it educates.
Pornography & Human Trafficking A great resource for parents in discussing the affects of pornography and its impact on promoting and feeding into human trafficking.
Articles/Handouts
Integrating Existing Ministries Handout– Ideas on how to integrate your church's existing ministries to fight and address human trafficking.
Rescue & Restore Campaign/ Public Awareness Brochures and Toolkits– Download free brochures, posters, and toolkits from the U.S. Health and Human Services Department.
Podcasts/Listservs
Audio of 2011 VUSA National Conference Workshop "Connecting the Dots: Pornography, Your Church, & Human Trafficking"
Human Trafficking Podcast from Sandie Morgan, Global Center for Women and Justice (Vanguard University)
Listserv from Initiative Against Sexual Trafficking, email to join.
Photos from VJN members
If you would like to highlight your church's anti-trafficking efforts, please email photos to contact@vineyardjusticenetwork.org.