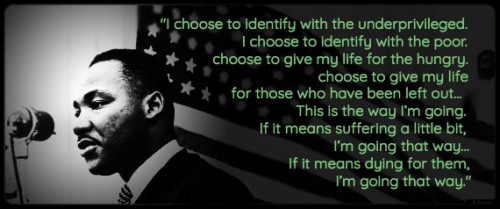 Dr. Martin Luther King Jr., Where Do We Go From Here: Chaos or Community? [photo: alamy]
In light of recent events and in honor of Black History Month, VJN has brought together some resources to help you navigate this season of remarkable political divisiveness with a Kingdom focus. In such a time as this, each of us as leaders is being tested as to how we embody "the only thing that counts is faith expressing itself through love" (Galatians 5:6).
VJN is committed to calling its members and our movement to practice a consistent Kingdom witness that subverts party politics for the sake of being equally pro-life, pro-woman, pro-man, pro-child, pro-immigrant, pro-creation, anti-slavery, anti-poverty, anti-racist, and anti-torture.
We've gathered these resources from around the Vineyard and our network to address the refugee situation, racial reconciliation, understanding how God's mercy leads us to God's justice, and bearing witness to Jesus Christ as our King in the midst of culture wars.
REFUGEES AND IMMIGRATION
"On the Current Refugee Situation" pastoral letter from Phil Strout, Vineyard national director, 2/2017.
"God is Our Refuge" sermon on immigration and refugees by Rich Nathan, pastor of Vineyard Columbus
"Welcoming the Stranger: A Biblical View to Understanding Immigration" VJN podcast with Bethany Anderson of Solidarity Rising
"Immigration Reform and the Church" VJN Spotlight Interview with Beth Watkins, legal clinic at Vineyard Columbus
"The Vineyard and Undocumented Immigrants" VUSA position paper on undocumented immigrants
"A Christian Response to the Refugee Crisis" video of World Relief staff diving into what the Bible says about refugees, how we should care for those who have been displaced, and how we balance compassion and security
How to Respond to the Refugee Resettlement Executive Order resources from Bethany Christian Services including infographics, links to educational sites, and advocacy action steps.
NURTURING RECONCILIATION

"A House Without Walls" sermon by Charles Montegomery, a Vineyard pastor. He calls us to reach across racial lines as followers of Jesus – laying down our cultural hermeneutic, and picking up our Christian hermeneutic as we move in the world.
"Loving Across Our Differences: Great Lakes Regional Conference on Diversity Within the Church" teachings by Geno Olison, Jeff Heidkamp, Le Que Heidkamp, Vineyard pastors. Audio and Keynote files.
"The Devil Does Business at the Crossroads" VJN blog on what we mean by "racism" and how God is not color-blind
"Galatians and the Multi-Ethnic Church" VJN blog on how the book of Galatians helps us tackle racism
"We Need a Civil Reconciliation Movement" VJN film review of Selma
"Lessons from Frederick Douglass" VJN celebrates Black History Month. For other VJN blogposts celebrating Black History Month, search for "BHM" using the searchbox.
Disunity in Christ by Christina Cleveland, VJN book review
BEARING KINGDOM WITNESS IN PUBLIC
"How Should We Treat Fellow Believers with Radically Different Political Views That We Personally Find Abhorrent?" sermon by Jamie Wilson, pastor of Coast Vineyard
Both-And: Living the Christ-Centered Life in an Either-Or World, by Insoo Kim and Rich Nathan. Preview the "Justice" chapter
"The Compassionate Justice of Jesus" VJN podcast with Alexia Salvatierra, coordinator Welcoming Congregations Network of Southern California ELCA
Peace Catalysts: Resolving Conflict in Our Families, Organizations and Communities by Rick Love, VJN book review
"Building a Communal Church" interview with Ron Dreher on how Christian communities should bear witness to American empire through practicing repentance, not partisan politics.
Please follow and like us: